25 Random Things About Me
Description:
Play 25 Random Things About Me and get to know the people you thought you already knew!
During game play, you'll try to match fun facts on the game cards with your opponents. Make a match and then add a new, totally random thing about yourself to your list. The first person to complete a list of 25 random things about them wins. It's great fun to compare lists at the end of the game!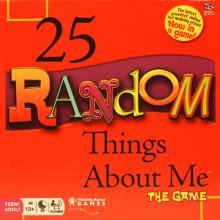 Library Location:
Archived -- Ask Staff for Assistance