Brief Overview
Spielmasons are a collective of board gaming enthusiasts that play and test games developed by Omaha-area designers. Spielmasons meetings and sessions are open to the public with the only requirement being an interest in testing unpublished games. Spielmasons' strive to provide honest and meaningful feedback to designers in order to facilitate the shortest path to improvement. In addition to weekly meetings and sessions, Spielmasons host design challenges and design jams as well as being a resource to Spielbound in the areas of design and education.
Goals
Promote analog gaming in the Omaha area
Be a trusted resource for Omaha area designers
Be an avenue for unpublished games through provision of publishing insight
Create a network of game designers and artists
To give advice and ideas to make games even better
Development of a 'Spielmasons Tested' and 'Spielmasons Approved' criteria
Events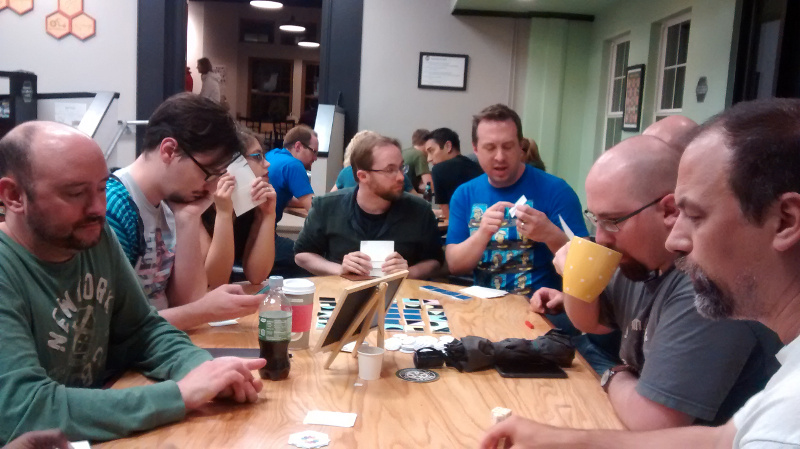 The Spielmasons hard at work during one of their weekly meetings.
Design Challenges
THEME: Cooking Themed = design a game with a cooking theme
NAME: Big Payback = design a game named 'The Big Payback' that fits in the box
COMPONENTS: Power Barons = design a game using only components from Power Barons
THEME: Politics = design a game with a political theme/mechanic plus one other theme/mechanic of choice
Meeple Jams
Summer 2015 @ Omaha Code School
Christmas 2015 @ Spielbound
Summer 2016 (June 25) at Do Space
A typical Meeple Jam session.
Seminars
Prototyping with Craig and Marcus February 2016 @ Spielbound
Pretzcon 2016 = Sell Sheet, Rules?