Brief Overview
Everyone Plays! is the volunteer base of Spielbound and is dedicated to engaging the whole Omaha community by making games easily accessible for all. The primary focus is Spielbound's daily game demo in the library where friendly volunteers teach a different game each day. Demos are free - no day pass needed! - and open to the public. Volunteers in Everyone Plays! also assist Spielbound's other non-profit arms and work with additional non-profits in the community to bring games to as many people as possible.
assignment Let Cecily know you're interested!
Goals
Make games fun and accessible to everyone though daily game demos and community outreach.
Support Spielbound's non-profit efforts by supplying volunteers wherever needed.
Build connections with the community through outreach events.
Spread knowledge of Spielbound's mission by participating in events for non-profits
Upcoming Events
Charity Ball (with Midwest Team Hoomans) for Project Harmony, May 2016
Day Camps for middle schoolers, Summer 2016
Union Pacific Museum Game Night, August 2016
Past Events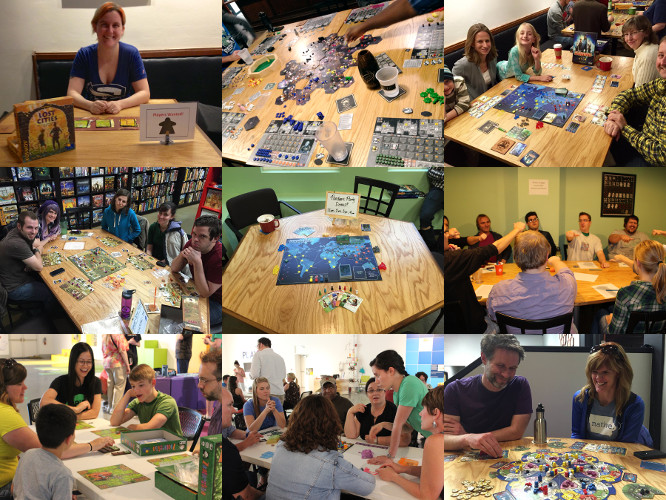 Everyone can play at our free daily demos!
Daily board game demos
Check out the full schedule on our calendar
Local board game conventions
Fundraisers through gaming
Extra Life for Children's Hospital, Fall of 2013, 2014, and 2015
Walk to End Alzheimer's, September 2015
Pandemic Party (for Doctors without Borders) December 2014
Shakespeare on the Green for Nebraska Shakespeare Collective, Summer 2015
Catan Day for the Food Bank, November 2014
Community game nights
Bellevue Public Library, April 2014, April 2015
UNO Library, Monthly September - December 2015
Walk the Night (with Blue Barn Theater) November 2015
KANEKO partnership
Augmented the PLAY exhibit by hosting four free community game nights at the KANEKO facility, Summer 2015
Promotions
Spirit of Giving, Summer 2015
Jazz on the Green, Summer 2015
Midtown Crossing Family Fun Day, November 2014 and November 2015