20,000 Leagues Under the Sea Game
Description:
Race your Nautilus to safety past the moving gunboats. Players race their Nautilus from Start to Home Port. Land on a wheel and YOU control the gunboats. Rotate the gunboats to sink an opponent. Be the first player to sail the Nautilus to Home Port and win the game. Every player is Captain Nemo is this exciting dimensional action game. Children and adults will enjoy the random movement of the cruising gunboats in a game inspired by the famous 20,000 Leagues Under the Sea ride at Walt Disney World. A suspenseful race for 2 to 4 players. Suggested for ages 5 to adult.
Note: This game is available by request only and requires having a membership to play.
See game associate for details.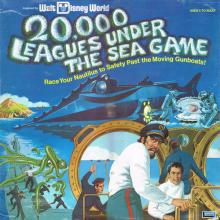 Library Location:
Protected Games -- Membership Required