Volunteering and Volunteer of the Year!
Submitted by Cecily Zdan on Wed, 2017-03-08 10:41
Did you know Spielbound is a non-profit organization? That means we can't be what we are without a dedicated army of volunteers doing everything from teaching games at the shop to selling raffle tickets at Shakespearean plays. That's right: you don't even have to know how to play any games to volunteer for Spielbound! There are also no minimum time commitments, so anyone can help, even if it is just once.
Anyone who wants to help out can find something to do: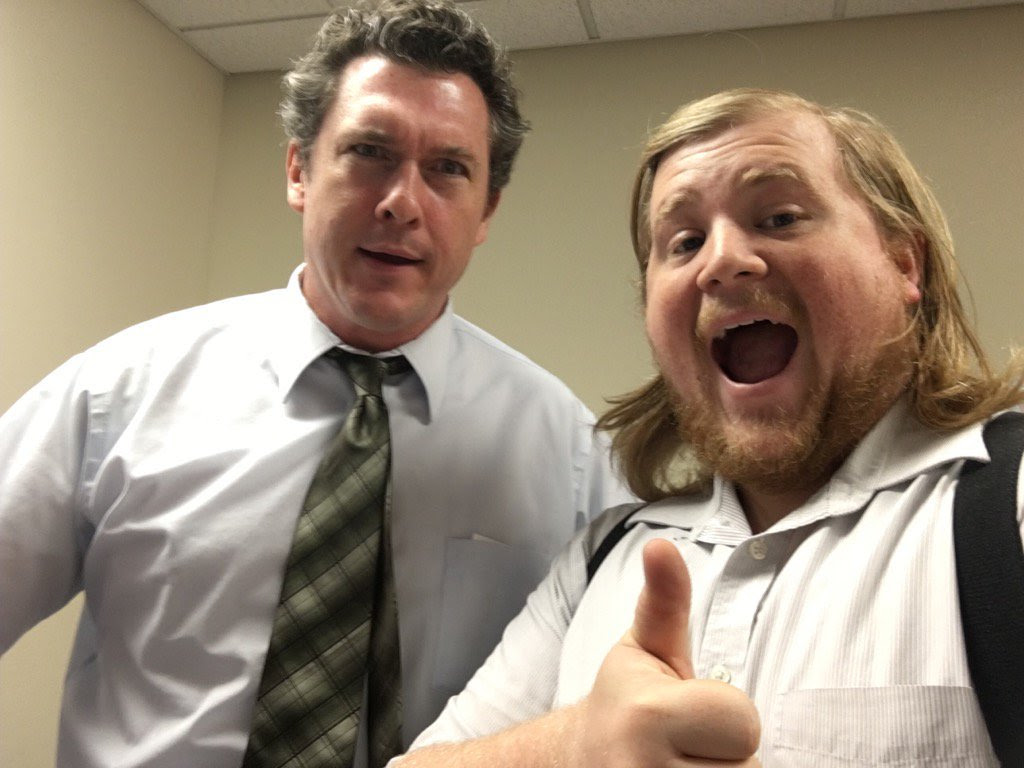 Jeff Garst was our volunteer of the year for 2016!
If you're interested in volunteering, email me, Cecily Zdan, at cecily@spielbound.org. I would be delighted to answer any questions and add you to our esteemed ranks of volunteers!
If you'd like to get to know another volunteer's take on it, check out the below interview with our 2016 Volunteer of the Year: Jeff Garst. Jeff was my clutch demoer all summer leading loads of last minute demos, and when his schedule got busy, he just set all of his weekly demos for the rest of the year rather than stop teaching games. Thank you, Jeff, for your unparalleled dedication to Spielbound!
And in Jeff's own words - Jeff, or Mr. Garst, tell us a bit about what fills your days.
I teach English and debate at Ralston High School for my full time job. In what little time I have left, I play many board games, and I've just recently been getting more into movies. I started a challenge in February to watch every movie ever nominated for Best Picture. In just over two weeks, I've watched 13/537. It's going to be a long process, but I'm enjoying it so far! In terms of board games, I now live less than a block from Spielbound. This has been great and I've been able to spend a lot more time playing the games I love and less time commuting too and from Spielbound.
When and how did you first get involved with volunteering for Spielbound?
I remember the first game demo I ever played was Tsuro with Eric Adamshick. I thought that the idea of demoing games was cool, so I asked about it. Luckily, Cecily was there that night and we talked about getting involved. It's been great so far! I've been able to demo games, go on trips to libraries, schools, etc. in order to demo games, and I've had the opportunity to be an advocate for Spielbound and gaming in general.
Of course, I now host the Spielcast. Before I did the Spielcast, I had a podcast about the TV show Survivor. I quit that podcast because I wanted to start a board game podcast centered around Spielbound. When I took the idea to Scott, Cody, and Kaleb, they had actually been discussing the same idea at the managers' meeting the previous week. Voila! Spielcast was born. There actually exists an Episode 0 of the Spielcast and it's.... not good.
What do you most enjoy about board games? Do you have a favorite?
I love the social experience of playing games. I enjoy interacting with other people in the real world and the true "battle of wits" that occurs in games. Of course, I also love the thematic experience. Anyone who has played a game with me knows that I love to engross myself in the worlds of the various games that I play. Because of this, my favorite games are highly thematic: Mansions of Madness, T.I.M.E Stories, Kingdom Death: Monster, etc. These games provide not only an intense mental experience with puzzle solving and trying to figure out the best combos to beat the baddies, but they provide an intense emotional experience as well. There's nothing like rolling a natural 10 at the exact right time in Kingdom Death: Monster and having your entire group cheer the victory. I still remember the first time I beat T.I.M.E Stories with my group. It was an amazing experience that I won't forget. Also, if you haven't noticed, I have a pretty heavy bend towards cooperative games. I love competitive games as well, but my favorites are almost all co-op!
Any advice for current volunteers or those considering it?
Just do it! Our volunteer coordinator is incredibly approachable and will love it if you want to jump right in. We're always looking for people to demo games. The greatest thing about demoing games is that you can demo the games you love. Getting to share your passion with others is a great way to expand your network within the hobby and meet new people. If you're not ready to demo, look into cataloging games. It's a great solo experience and you'll get to become familiar with new games that you haven't seen before.
If you're interested, e-mail cecily@spielbound.org. Cecily is ALWAYS looking for demoers (Trying to come up with one per day is a tough task!), so you can begin almost immediately. There's no training, you could be demoing as soon as you're available.
Why do Scott and Cody, your partners on Spielcast, have such poor taste in games? [Wait, this wasn't one of our questions.]
I'm not sure why the two of them seem to enjoy bad games. Perhaps they haven't truly been exposed to good games? Perhaps this is a Slumdog Millionaire-style situation where every game they enjoy is connected to them through some intense, memorable childhood experience?
But actually, I'm a huge proponent of "play what you like." I'd never game-shame anyone for playing a game they enjoy. There are games that I refuse to play anymore because I dislike them so intensely (Munchkin, Cards Against Humanity), but I understand that there are people who enjoy those games. And if it means that they're playing games and that they are interacting with other people in a positive way, I'm all for it.
If you really want to see the three of us disagree on something, keep an eye on the Spielcast for the next few months. We've got an episode coming up within the next 5-6 episodes that I know is going to be divisive.
Anything else you'd like to share?
I'm honored that my favorite business in Omaha has said that what I do is valuable to them. But I'd also like to thank Spielbound for what it's given me: A glut of friends, a place where I feel welcome and comfortable, and a sense that I'm doing some good in the world. I truly believe in Spielbound's mission: "that games inspire, motivate, and help us grow". And I enjoy helping fulfill Spielbound's purpose: "to educate, entertain, and create community through board games."