Meet Our New Communications Intern!
Submitted by Adam Cornish on Fri, 2014-03-21 20:56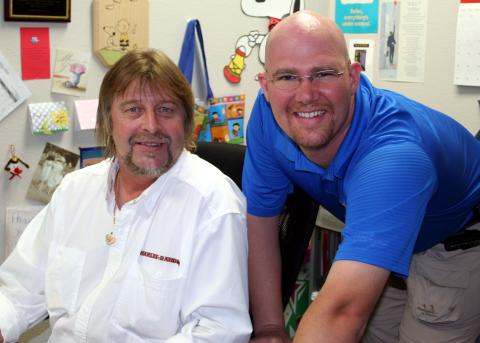 Nate Kramer comes to Spielbound via the internet; a place strewn with board games from every age, country, and classification. Fortunately, as our new Communications Intern, Nate will be dealing with board games he can actually touch, feel and sometimes taste. Nate will be informing the masses (you) of weekly happenings about and often at Spielbound as it opens in the early summer of 2014.
Before Nate came to us, he spent six years in sunny (it's a dry heat) Las Vegas, NV. Nate brought with him all the fast paced excitement and fun that Las Vegas has to offer, as well as experience with games like Talisman (3rd edition), Family Guy Life, Dominion, and Blood Bowl: Team Manager.
But before that, Nate developed his love of board games growing up in a family of fun in Rochester, NY. It started when Nate was about 8 or 9, when his mom made "The Feelings Game" out of spare buttons and colored pencil. While Nate never really learned to fully express his feelings as a kid, his board game itch had been scratched and it was all uphill from there. Nate filled his teen years with games like Master Mind, Ants in Your Pants, Sorry, Clue, Stratego, and Don't Break the Ice! At age 19 Nate moved out of his parent's basement and joined the Army and his life was forever altered.
Games such as Puerto Rico, Monsters Menace America, Munchkin, Python-opoly, and Cards Against Humanity are counted as Nate's current favorites. As for how he ended up our communications intern, in his free time Nate spent 14 years as a member of the television news media, and he comes to Spielbound in hopes he can continue share the news and share this love of board games with the world.