2017, update from Spielbound's Librarian, Marcus Ross
Submitted by Marcus Ross on Wed, 2017-03-08 10:14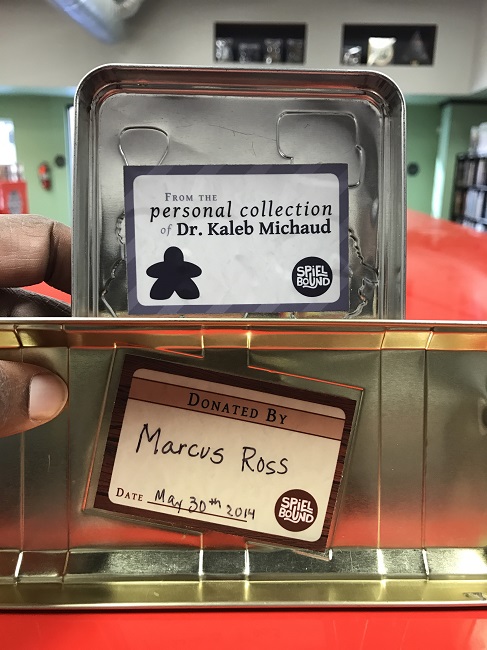 Over 2,000 board games have been donated to Spielbound by our passionate supporters. Pictured here are two such games gifted by Kaleb Michaud and Marcus Ross.
The game library at Spielbound recently surpassed 2000 catalogued games.
TWO. THOUSAND.
Passing a milestone like this affords us an opportunity to examine what makes it special. The sheer depth of a publicly accessible catalog that size sets us far apart from the other game libraries and cafes around the world. The bulk of those games are made available from the vast personal collection of Spielbound's founder, Dr. Kaleb Michaud. You'll recognize the name from the purple stickers that grace most of the box lids at the cafe. But we also add games to the library via donations from the public. Since the library is part of the 501c(3) non-profit side of the business, donations to it are tax deductible.
The library itself is the central, defining asset of Spielbound's non-profit arm: it's the reference catalog for the Spielmasons game design group, the enabling resource for the education program, and the experimental lab for our Stay Sharp Seniors program. Keeping it organized, relevant and vibrant is a constant challenge. The library has to serve all these purposes and also work as an attraction for the public we serve and we have all types: hardcore strategy gamers, college kids on a night out, workers doing team-building exercises, or families spending the day with young children.
Add to this the fact that tabletop games are experiencing an unprecedented surge in popularity in the United States. New games are being released every day and most of them get one print run, thus they are only available for a limited time then disappear. We strive to get at least one copy of anything novel or unique and multiple copies of anything we know will prove popular. As games get played, they get worn and the various bits and pieces can get misplaced.
If you'd like to help out, ask a Spielbound employee for a donation card like this one. We're always looking for the classics like Life, Risk, Guess Who, or a quality chess set.
Most hobby games sought by our deep catalog players actually stay in pretty good condition unless they're extremely popular games like Catan, Camel Up, Ticket to Ride, or Pandemic. Those are called evergreen games, an industry term for popular titles that are constantly being reprinted by their license holders in much the same way great novels would be. We can usually get those games pretty easily through our distributors at a discounted rate. And if you want to buy a specific game for our library that is in print, let us know as we partner with the café store to get them added at their cost.
Surprisingly, what's most difficult for us to keep in the library and in good condition are the standard, mass market games you might find at Walmart or Target. We often need replacements for games like Life, Risk, Guess Who, Monopoly, Scrabble, Checkers, Jenga, Mancala, Stratego, and the like. Honestly, we're in need of a great, quality, chess set. Games like these have proven to be very popular, even at Spielbound because everyone already knows the rules and has fond memories of playing them. The makers of those games don't offer them through small retailers. We rely on donations of those titles or resort to buying them when they go on sale from a big box store. If you have extra copies of games like these, we'd love to have them even if they're not complete. We can cannibalize the best parts to make complete games or use multiple copies in public events or tournaments.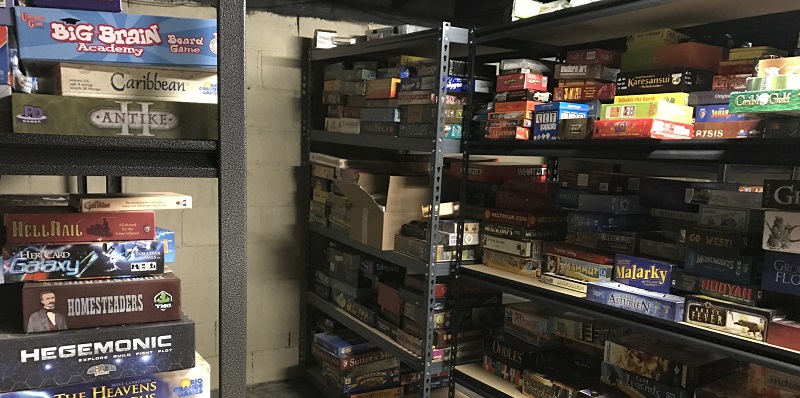 A peek at the numerous games in our vault, plenty of which need cataloging.
While all of our catalogued games are listed on our website, we still have many more to add that have yet to be catalogued. We take pride in the extra steps we take to make our games organized, labeled, and protected in various ways to help them last longer. Stay tuned for next week's post by our volunteer coordinator, Cecily, about how our volunteers help keep our library in great shape.