We <3 BOARD GAMES!
Submitted by Kaleb Michaud on Sun, 2018-02-11 22:38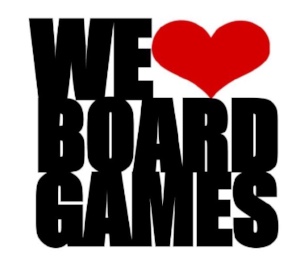 We <3 Board Games!.
"Hello friend!"
"Hello friend!"
This greeting has become pervasive at home as my 1-year-old hits buttons on her talking toys repeatedly clearly in search of a flaw in the machine.
"Hello friend!"
"Hello friend!"
...
I happened to be opening a new board game when I last heard this. Popping out the cardboard tokens, sorting the meeples, and putting the pieces into zip-top baggies - there's a unique joy in this ritual. Even when you've done it as much as I have cataloging hundreds of games for the Spielbound library. Still, while I have some favorites, my love of board games comes not from the material possession, but from the play with friends*. From the confused look after getting the "Do Something" token playing Magic Maze to the relish of winning a close game of Majesty where everyone scored ~150 points to the look of disbelief when the village removed an innocent villager (again) in Werewolf - the games are the medium (or even the MacGuffin), as the memorable experiences all require the participation of friends!
This is our first of many new posts about what Spielbound is doing in 2018. We're saying goodbye with gratitude to Jessica Steffen and Zeuben Eddington for their years of service and a warm hello to Kaitlyn O'Leary, Braylie Barrier, and Dan Johnson Jr as they join our volunteer staff team. Learn about them and the rest of our amazing volunteer team on our Contact Us page. When positions open up, we post about it in our weekly newsletter, so sign up here!
Can you guess which of our staff won at Between Two Cities? Hint: she has two thumbs and four ears.
We're also formalizing the various ways of volunteering using this form to learn what areas volunteers are most interested in helping and learning about. We'll be using new group lists and more to connecting volunteers by interest, especially around our five outreach arms: Education, Stay Sharp Seniors, Spielmasons, Everyone Plays, and the Game Library - each has a handy link in the top menu. Each has a volunteer leader who, along with several others, help... develop classroom lesson plans with games, develop game play for assisted living centers, create new games to be enjoyed around the world, teach games to people of all ages around our community, and help provide the games for all to enjoy, respectively. Our volunteers truly make Spielbound great!
In future posts, I'll write in greater detail about the history of Spielbound and its relationship with Spielbound Board Game Cafe (yes, these are two different organizations that share a vision, name, and social media accounts). For now know that we have many things planned for 2018 so please pay attention to this space as we grow. And especially with this week in mind, be our Valentine and play a game with a loved one or three.
Through play we connect...
Kaleb Michaud is the Director and Co-Founder of Spielbound
*Not to take away anything from solitaire games, but the great experiences there are still best shared with friends.