Spielmasons 'Power Barons' challenge!
Submitted by Spiel Mason on Thu, 2015-09-17 16:34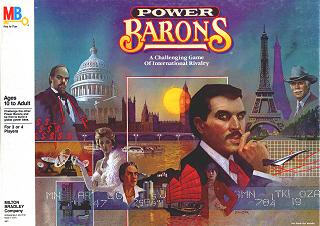 Spielmasons 'Power Barons' Challenge!
Hi all!
The Spielmasons announce a new design challenge. The Spielmasons 'Power Barons' challenge is a component challenge in which the only requirement is that components from the 1986 Milton Bradley game 'Power Barons' are utilized in the design.
In addition to our standard post-assessment scoring, entries will be scored on the proportion of Power Barons components that play a significant role in the design. All entries will be scored during our November 4th and November 18th meetings.
The winner of this challenge will have their version grace the shelves of the Spielbound library with their picture on the box!
Join the Spielmasons at our next meeting on September 23rd from 8PM to 11PM at Spielbound.
Neil