Game design program
Submitted by Adam Cornish on Tue, 2014-04-29 14:11
One of Spielbound's important goals is to encourage creativity through designing board games. This often gets overlooked because so few people ever create a game. Doing so takes a lot of work in design, structure, art, and a lot of testing!
This program is intended to help future and current game designers, artists, and advertisers a chance to practice their skills in a supportive environment. This will include the following activities:
Design-your-own-tabletop-game events for providing aspiring game designers a chance to demonstrate their abilities.
Provide play-testing of game prototypes to give constructive feedback to designers and artists trying to enter this growing field.
Offer professional seminars on key components of designing, creating, and distributing a board game successfully.
Spielbound will offer its name of support to assist locally developed games to be solicited by game distributors or online crowdfunding.
By working with Spielbound, game designers and testers refine their skills by having access to regular feedback, tons of other games as examples, and a centralized organization for bringing more talent together to share in their work.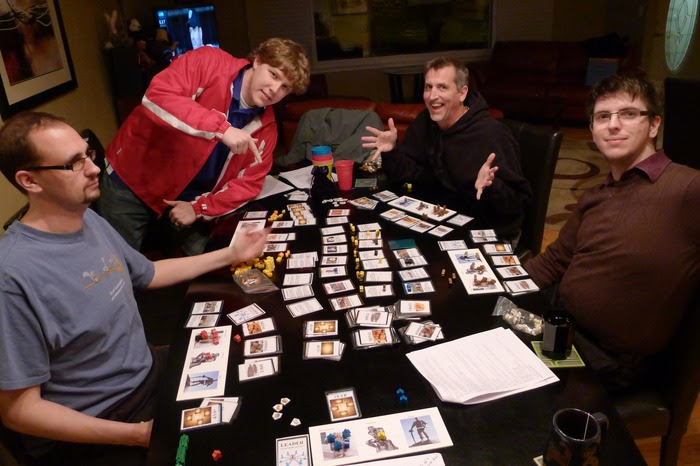 Spielbound volunteers after playtesting an unpublished strategy game for 3 hours - required a lot of pieces from other games
Locally produced games
Did you know that Omaha has a long history of creating games? We also have strong academic programs that teach game creation, and a very active Omaha Game Developers Association that continues to impress many far and wide. I've spoken with Bellevue University Assistant Professor Alex Myers who insists that before his students create electronic games, that they create and test board game versions first.
Neil Opitz and his game company, Farm Fresh Games, currently has a fun family card game about dinosaurs called Super Tooth up on Kickstarter here. I recommend that you check it out - it took all of 3 minutes to learn and was a blast to play with all ages! Once we're open, Neil could then use Spielbound as a place to get regular feedback from playtest groups on his games. Who knows, maybe the first game with "Spielbound tested" will be bigger than Monopoly!
Spielbound's game librarian, Marcus Ross, also created a few games with his partner, Cara, for Water Bear Games. They have playtested them with various Spielbound volunteers and kids of volunteers. Of note, out of over 500(!) games entered, their fun and fast card game Discount Salmon was chosen to compete with 15 others in last summer's Tabletop Deathmatch sponsored by Cards Against Humanity. Marcus, Cara, and their game will be highlighted in an online episode April 24th. If they win, we expect everyone to soon know about Discount Salmon, and Spielbound will be one of the first places in the world to have it available!
Spielbound supporters playing the locally created game Discount Salmon
I know that there are many other games being created and made better by folks nearby. I just wanted to emphasize this aspect of Spielbound. Playtesting isn't for everyone, but it can be fun to be on the ground floor of something new and to know that your help and advice can make an OK game great!