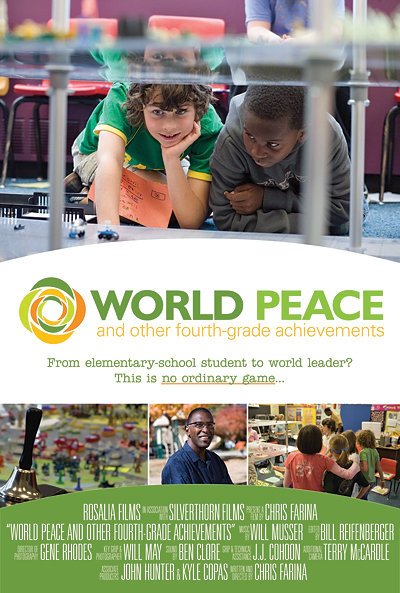 World Peace and Other 4th Grade Achievements (2010)
Happy New Year Friends of Spielbound!
I'm excited for what 2015 holds for Spielbound and I hope that you've been enjoying the engagement that our game library provides.  I've been personally enjoying the relaxed environment at the cafe and library.
One of the central goals of Spielbound is to help teachers find ways to enhance student learning and engagement with board games.  In order to do that we want to find ways to help teachers see pathways for using games in schools.  So how can we help with the professional development of teachers whose schedules are already packed?  Go to the movies, of course!
On March 9th at 7 PM Spielbound and Filmstreams invite you to a special, one-time screening of the documentary World Peace and Other 4th-Grade Achievements.  The event is open to all, but area educators and their families are especially encouraged to attend.  The film highlights the efforts of rural Virginia teacher John Hunter to use the non-violence principles of Mahatma Ghandi to help his students understand peaceful discourse.  His World Peace Game helps students to see the value of collaboration and communication in resolving conflicts.  This inspiring story will be followed by a Question and Answer session with a special panel.