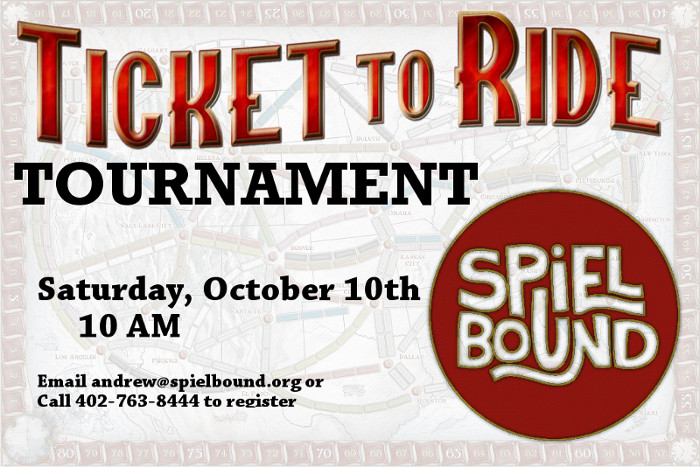 Ticket to Ride Tournament!
Calling All Tycoons for a Tournament of Champions!
One year ago, Spielbound celebrated its grand opening and what a journey it has been! Come help us celebrate the momentous occasion by crafting your own journey in a Ticket to Ride tournament. In the game of Ticket to Ride, players compete to build a network of train routes connecting various destinations. A mix of long-term strategy, quick tactical decisions, and just a bit of luck are all you need to win.
The tournament will be held Saturday, October 10th at 10 am. Any skill level of player is welcome and prizes will given not only for wins, but also for participation and good sportsmanship. There will be no cost for tournament participation other than the day pass or membership normally needed to play our games. Registration will be available at the door, but to ensure a smooth experience we ask you to please pre-register. Send an email to andrew@spielbound.org or call 402.763.8444 to RSVP. Think you have what it takes to be the next Vanderbilt, Pullman, or Gould? Sign up for the tournament today!